Experienced professionals offering a full spectrum of led lighting and control products solutions for any size business or residential application
Learn more
The Areas We Serve
We are experienced professionals offering a full spectrum of commerical LED lighting, lighting control products, and lighting services. Serving Western Pennsylvania, West Virginia and sections of Eastern Kentucky and Southern Ohio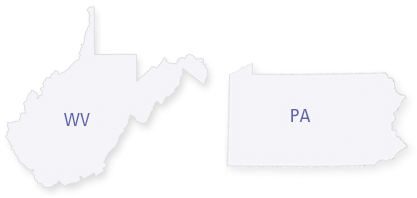 New Manufacturers
Laface & McGovern are proud to now represent TerraLUX. TerraLUX offers retrofit LED modules for OEM and commercial lighting applications. Check out their Linear Retrofit products at TerraLUX.
LumenOptix™ has also joined the L&M list of manufacturers. LumenOptix™ specializes in the design and fabrication of intelligent lighting solutions for the commercial, industrial, warehouse and retail markets. They also make an architectural grade retrofit LED recessed fixture. Visit their site at LumenOptix.
Lumos is our latest addition to our decorative lighting offering, specializing in custom interior and exterior lighting products. Their options are limited only by your imagination. See some of their past creations at Lumos.
New Principles
At the end of January, Tim Leonard and Brian Miedel joined Harry, Jim and Craig as principals of the Company. Their years of experience in the business will give added strength to our management team. Congratulations gentlemen!
New Employees
Laface & McGovern welcomes two new members to our sales team.
Nick Kellington will be coming on board as an outside sales person concentrating on contractor accounts. He comes to us with 15 years of experience in the lighting / electrical field, having worked in wholesale distribution and factory representation. Nick also has experience in the controls field.
Valerie McKee has nearly 7 years in the lighting industry. She will be our Daylighting Controls Specialist Valerie graduated in 2006 from Indiana University of Pennsylvania with a Bachelor's degree in Interior Design. She received her LEED AP accreditation in 2007 and her LC qualification in 2009.